This post by David Papkin is a review of The Cafe Hyatt City of Dreams Manila, Philippines Breakfast Buffet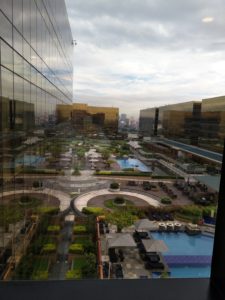 https://cityofdreamsmanila.hyatt.com/en/hotel/dining/the-cafe.html
The restaurant is located near the lobby. It's simple yet elegant in feel, done in dark tones. It's actually pretty big, though divided in sections for a more intimate feel…
The staff very friendly and they greeted me by Name. Even when they came to my table, they still used my first name.It was like Business Class section for Singapore Airlines.
Choices were overwhelming!
They really try to appeal to an international audience with their food. They had a lot of cheeses and pastries to choose from to start you off with. Went straight to the taho station, ignoring the sushi and salad nearby… Walked over to the egg station for my usual omelet- very fluffy and good for practically 5 people, shucks! Different sausages were available along with bacon (you can ask them to cook yours further if you want it crispy), tocino, and danggit… They even have cute personal tapsilog containers, ready for consumption… For the Chinese guests they have congee and viands already set up… For the health conscious, fruit smoothies were available along with a huge selection of fruits.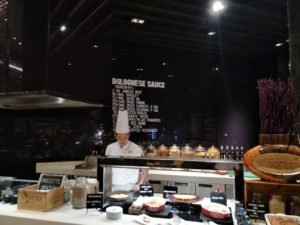 Great pastries! Fresh baked SOFT sourdough!!!!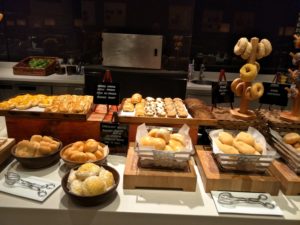 The juice section is great. Every day they have at least two fresh juices as well as the standard juices.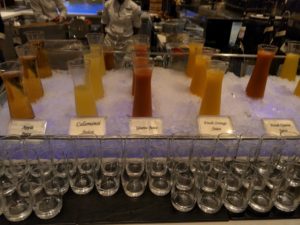 Fresh orange Juice, Coconut Juice and Carrot juice Definitely fresh, no sugar!
If you like maarte coffee instead of brewed, go straight to the coffee machine for your macchiato, latte or cappucino fix… Brewed coffee available upon request for serious coffee drinkers…
Staff were really great and they will help put you in a happy mood. But I'm sure the food will do that for you anyway!
This concludes this post by David Papkin
My favorite movies