This post by David Papkin is about the variety of Western and local foods available in Iloilo Phillipines. This is just a very small sample, there is a wonderful variety of food. I havent mentioned Jollibees, am trying new places!
Inasal Restaurant, Sbarro, Soybean Drink, Halo-Halo dessert, local fruits like Santol, which is sometimes called Wild mangosteen
Mang Inasal (Hiligaynon for Mr. Barbecue) is a barbecue fast food restaurant chain in the Philippines established in Iloilo City in 2003. It is one of the fastest-growing food companies in the country, specializing in grilled chicken.
Awesome chicken and unlimited rice!!!
Halo-halo is a popular Filipino dessert with mixtures of shaved ice and evaporated milk to which are added various boiled sweet beans, jello and fruits.It is served in a tall glass or bowl. This has one of my favorites inside, UBE (purple yam)!!!!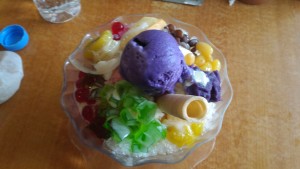 Halo-Halo at Inasal Restaurant Iloilo
Homemade Sybean drink
Sbarro Restaurant is crowded and yummy. Mouth started watering as soon as I got in the Queue!
There are two varieties of santol fruit, previously considered two different species, the yellow variety and the red. The difference is in the color that the older leaves turn before falling. The red appears to be more common and the reddish leaves mixed with the green ones add to the distinction and attractiveness of the tree. The fruits are often the size, shape and slightly fuzzy texture of peaches, with a reddish tinge. Both types have a skin that may be a thin peel to a thicker rind, according to the variety. It is often edible and in some cultivars may contain a milky juice. The central pulp near the seeds may be sweet or sour and contains inedible brown seeds. In some varieties the outer rind is thicker and is the main edible portion, with a mild peachy taste combined with some taste and the pulpy texture of apples. In others the outer rind is thinner and harder and the inner whitish pulp around the seeds is eaten. This may be rather sour in many cultivars, which has reduced the general acceptance of the tree. Most improved varieties have increased thickness of the edible outer rind, which can be eaten with a spoon leaving just the outer skin, and should increase the acceptance of the santol worldwide.
This concludes this post by David Papkin
My favorite movies