This post by David Papkin is about Eat Me Restaurant Bangkok, Thailand.
At Eat Me, you can choose to sit outdoors by the balcony surrounded by greens, or indoor for a more comfortable seating in this two-storey white house. It had been raining, so was cool enough outside and also had some fans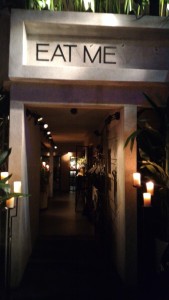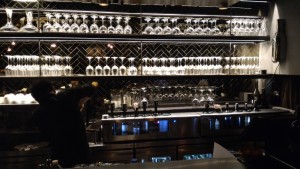 Great music playing in the background and well trained staff.
Excellent selection of Craft Beer but I chose SMOKEY MARY
SMOKED BACON INFUSED KETEL ONE VODKA ,BLOODY MARY – FARANG OR THAI STYLE – 290 Baht
Excellent garnishes:Dried Bacon that seemed like dried Parma Ham, Asparagus and Celery and Lemon garnishes with Cracked Pepper around the rim.
I love tomatoes so had the HEIRLOOM TOMATO SALAD
4 different color tomatoes and olive oil ice cream and thinly sliced parmesan. I would come back just for this salad!
For my main course, I chose GRILLED IBERICO PORK PLUMA.
Wise choice! sweet flavor, very tasty.
Extremely Satisfied diner (me)
This concludes this post by David Papkin iabout Eat Me Restaurant Bangkok, Thailand.
https://plus.google.com/+DavidPapkin
My favorite movies
Taxi Driver with Robert Deniro