This post by David Papkin is about OPUS BAR & GRILL steakhouse  is in the Hilton Hotel on Orchard Road.
There are two things that matter when you are considering the humble steak, and that's the meat and the grill. While seasonings and sauces have their place, these two essentials go the longest way in ensuring a perfectly juicy, endlessly flavourful cut from pasture to plate. This is the philosophy of Opus Grill, the stunning new, mahogany clad steakhouse at Hilton Singapore. Featuring an impressive dining room with handsome furnishings, it has the feel of a solid steakhouse experience long before you get a peek at the well-curated menu of grill basics.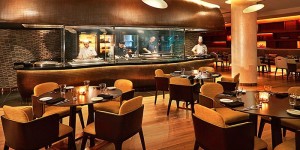 The meat starts with 14 to 36 days of dry aging in a one-of-a-kind Himalayan salt tiled cabinet. The in-house curation makes a tasteful difference in flavour and juiciness of the steak, and while there are a handful of choice cuts available, the Rangers Valley Angus Rib with a Marble Score of 4 is a fast favourite. A sizeable beauty meant for two diners, the steak is carefully grilled upon imported charcoal for an ideal flame-licked crust. Served with only one sauce determined by the chef, you can add your favoured toppings though the steak itself requires nothing.
Appetizers
Had Halloumi cheese and squash with Picada dressing skewer/. Excellent!
Main
Black Angus steak.
Sides
Asparagus & Mac n Chesse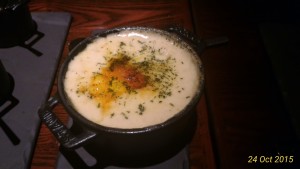 Mac n Cheese
Dessert
Wine
Had Australian Siblings 2011 Shiraz, perfect pairing.
All in all a good meal , although the steak could have been a bit better for 110.00. Biscetta Tuscany grill t-bone is a bit better
All in all, I give this restaurant  thumbs up!
This concludes this post by David Papkin is about OPUS BAR & GRILL  is in the Hilton Hotel on Orchard Roa
http://www3.hilton.com/en/hotels/singapore/hilton-singapore-SINHITW/dining/opus-bar-and-grill.html
http://www.chope.co/singapore-restaurants/restaurant/opus-bar-grill
My favorite movies
Taxi Driver with Robert Deniro