This post by David Papkin is a review of Dan Ryan's Chicago Grill Singapore.
A little history first…..
Dan Ryan's was created in Hong Kong in 1989 and currently there are four restaurants in operation in Hong Kong, Taiwan and Singapore. Its offers authentic American steaks, ribs, sandwiches and salads in a friendly, lively and upscale atmosphere. Dan Ryan's operating mission is to serve consistently genuine, uncompromising American food to a standard exactly as one might expect in big city restaurants across the United States, at a price that guests regard as high value. Taking inspiration from a 1940's Chicago bar and grill, features period music, vintage light fixtures and posters, an antique train circling above the bar, and an artist's mural depicting vintage Chicago night life. Whether in a business suit or in causal attire, everyone feels comfortable in the relaxed setting.
Dan Ryan's has American size portions. The meals come with their fresh bread basket with Fresh baked bread, cornbread and pumpkin muffin.
They are well known for their Steaks and other grill items.
They have great wine and cocktails and beer.
Desserts huge and tasty!!!!
Lately, they have been doing promos, please check their Facebook page for latest promos.
https://www.facebook.com/danryans.sg/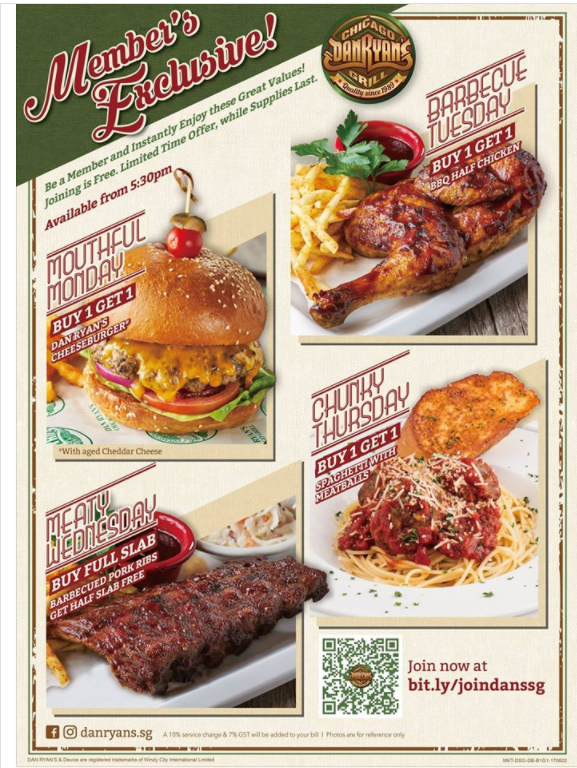 I had their Spaghetti and Meatballs 1 for 1 , since was Thursday. I was surprised that it was FULL portion, even though buy one get one free.!!! Awesome. Their meatballs are a mixture of beef and pork , so has incredible flavor. Great thick sauce. Also fresh baked garlic bread!!!
I heard their burgers are great, I will be trying the Monday night promo soon.
I usually go for steak, great USDA steaks.
Their Thanksgiving and Christmas dinners are great. I heard a rumour that this year their Thanksgiving menu will be special.
Their staff is especially friendly, managers Magendharan & Carol are very friendly and patient!!! .
This concludes this post by David Papkin about Dan Ryan Chicago Steakhouse, Singapore.
My favorite movies
Taxi Driver with Robert Deniro